ECM :rarum MONTH* (MARCH 2017)
I wouldn't know where to start, so I'm wimping out and using ye olde cut-and-paste from Thom Jurek at
Allmusic
:
Like guitarist Terje Rypdal, with whom he has collaborated, British saxophonist, bandleader, and composer John Surman has had a career on the ECM label that has covered the terrain of new classical music from chamber to orchestral, jazz of the vanguard and groove varieties, new music, and even folk music. This personal selection of his offerings from the label from the years 1976-1999 gives listeners the opportunity to be stunned by his versatility and commitment, and the incredible depth he possesses in each of his chosen fields of inquiry, but given the sheer breadth of his oeuvre, it is impossible on a single disc to give an accurate representation. As a result, what is here is nothing short of stellar. Surman's chosen ramble over the course of his career is in aesthetic rather than chronological order, so listeners have "Druid's Castle" from the 1994 set A Biography of the Rev. Absalom Dawe, a piece for solo soprano and baritone saxophones, kicking it off. Surprisingly, Surman offers "Number Six" from a Miroslav Vitous-led date in 1982 to follow, which is dovetailed with "Portrait of a Romantic," featuring another solo of bass clarinet, recorder, and synthesizer that feels informed by Delius. Thankfully, "The Returning Exile" from The Brass Project is included here, as is a brilliant piece from Adventure Playground in 1991 with sidemen Tony Oxley, Paul Bley, and Gary Peacock. But it is on the four or so solo pieces that the sheer mastery of Surman's command becomes evident, and for these listeners should be grateful.
While it's a mixed bag and acquired taste, I like the solo stuff and recommend checking it out. Of all the discs in this box set, this one is the most welcome discovery.
Peak on the US Billboard Top 200 chart: Did not chart
Tracks: 13 tracks, 71 minutes.
Title
Album

Year



Druid's Circle

A Biography of the Rev. Absalom Dawe

✔
Number Six
Portrait of a Romantic

1987

✔
Ogeda
1993
The Returning Exile
Edges of Illusion
1979
The Buccaneers

The Amazing Adventures of Simon Simon



The Snooper




Mountainscape VIII
1976
Figfoot
✔
Piperspool
1990
✔
Gone to the Dogs
✔
Stone Flower



Personal Memory Associated with this CD: Being singularly infatuated with
Edges of Illusion
for at least a week after I first heard it. It's trippy as hell and still stops me in my tracks.
If I had known of Surman's work when I was a music student, I no doubt would have transcribed and performed some of his solo stuff. Guess I still could, huh?
---
*Back in June 2015, this beautiful thing showed up at my doorstep: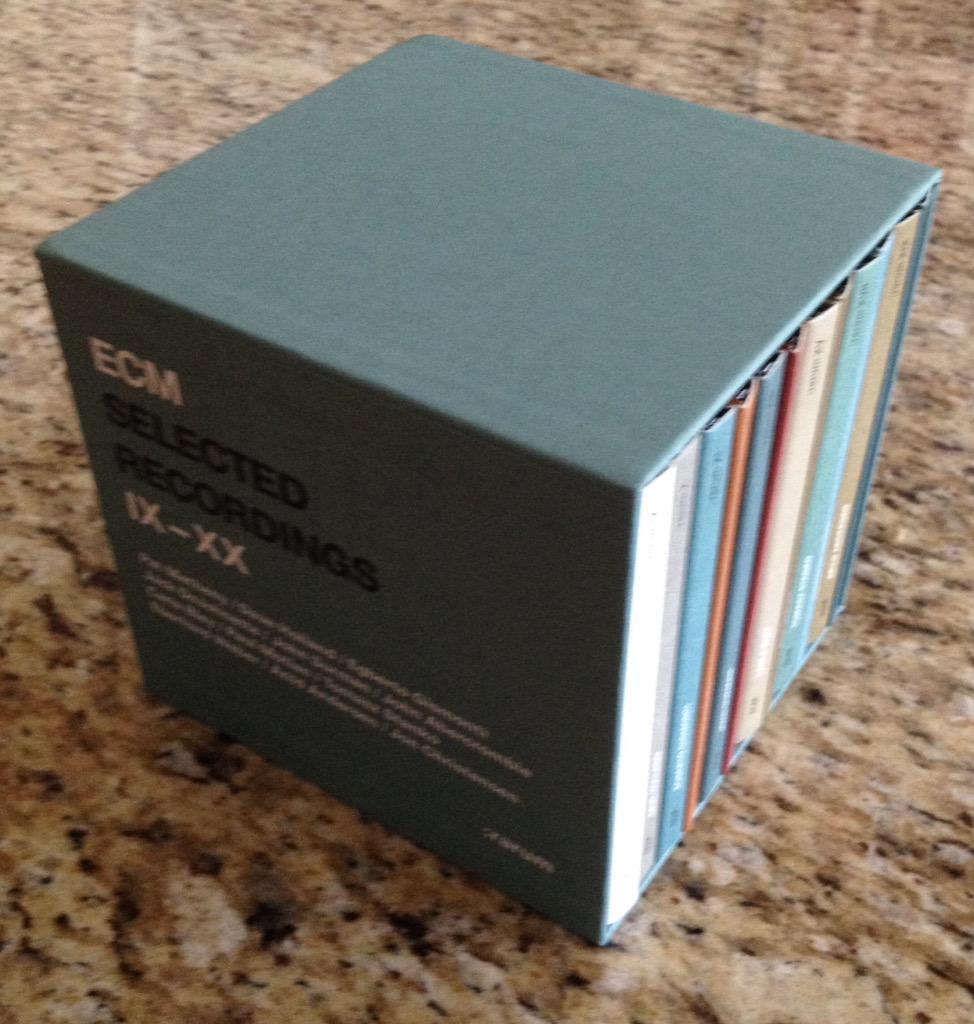 It's a 12 CD box set (2008) of compilation discs from ECM's :rarum series, a birthday gift from a good friend. In this series, the artists were given the freedom to pick their personal favorite recordings from any ECM release they've made as a leader or sideman. In other words, the label got outta the way and good for them. I'll be making my way through the set this month.
ECM (Edition of Contemporary Music), originally a German label, was founded in 1969. "Rarum" comes from the Latin root "rarus" meaning "rare" (perhaps foreshadowing that these CDs wouldn't be in print for very long).